Pros And Cons of Side Mount Ball Bearing Slides
March 14, 2023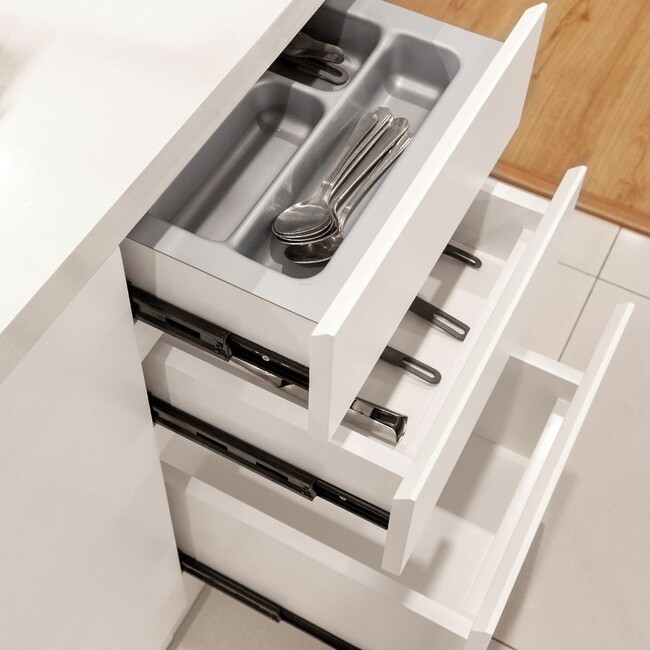 Pros And Cons of Side Mount Ball Bearing Slides
When it comes to kitchen cabinet hardware, drawers are an important fixture. As a manufacturer of kitchen cabinetry, you might be well aware that drawer slides are integrated into these cabinets to ensure smooth operation. While you might only want to use premiere slides for your customers, there might be budget constraints from the client side. So which type of drawer slides are functional, easy to install and relatively affordable? The answer is side-mount ball-bearing slides. To learn more about them, here are a few pros and cons of these drawer slides.
Merits And Demerits Of Side Mount Ball Bearing Slides
Pros
Easy To Install
Most side-mount ball bearing slides are easy to install, requiring only a few tools and some basic handyman skills. Especially when it comes to casework, these drawer slides are the ideal choice. They can be mounted on the cabinet's side or can be mounted on the front or back of the cabinet with mounting plates.
Allows Full Extension And Flexibility
One of the biggest advantages of side-mount ball-bearing slides is that they allow full extension and flexibility. This means that you can open the drawer all the way and access everything inside easily.
Economical
Side mount ball bearing slides are less expensive than their bottom mount counterparts, making them a more economical choice for many applications. Often, they also have a higher load-bearing capacity than bottom-mount slides, making them a better choice for heavier applications.
Cons
May Be Noisy During Operation
Side mount ball bearing slides may be noisy during operation. This is due to metal-on-metal contact which may occur during operation. It is, however, a minor drawback at worst.
Are Visible When Drawer Is Opened
Another downside of using these drawer slides is that they are visible when the drawer is opened. This can be inconvenient, especially if the drawer is not perfectly aligned with the cabinet opening.
Therefore, weighing the pros and cons, you must recommend the right drawer slide for your customers, and in some cases, side-mount ball-bearing slides might be the best option.
Looking for such sturdy and versatile cabinet hardware? Reach out to us at Kipco Hardware. A family-owned kitchen cabinet hardware supplier from Kitchener, we firmly stand behind the quality of our products. Contact us today to place an order or ask for a quote.