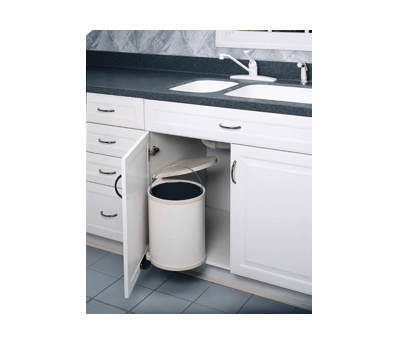 White 15L Single Round Pivot-Out Metal Waste Containers
SKU: 8-010412-15
Description
The pivot out waste container is ideal for keeping garbage out-of-sight yet conveniently accessible under the kitchen or vanity sink. As the cabinet door opens, the lifting mechanism raises the lid enabling the container to pivot-out with the door. This series features an inner polymer container with built-in handle for easy removal.
8-010412-15
• 15 Liter Pivot-Out Waste Container
• Designed for frameless cabinets, but can be slightly modified to work in face frame applications
• Limited lifetime warranty
• Perfect for vanity or kitchen applications
• Pivot-out design opens when cabinet door is opened
• Removable inside container for easy cleaning
Additional Details
Minimum Width Opening
13-1/2"
Minimum Height Opening
18-5/8"
Minimum Depth Opening
12-1/8"
Material / Finishes
White Lacquered
Related Products